The statement that Lima never made, but has been attributed to him since before he was minister
By Bolivia Verifica | Bolívia
Por Paola A. Palacios Negrete
Updated 17 de May, 2022 at 10:08 am
The statement is attributed to the current Minister of Justice and Institutional Transparency based on an interview he gave in August 2020 on the program "Diálogo en Panamericana"
"If a girl is 12 years old and concedes to a relationship, there is no crime" is a statement attributed to the current Minister of Justice, Iván Lima, since 2020. This statement has reached different social networks such as Facebook, Twitter and WhatsApp, but it is false and despite having been denied, it often reappears.
We carried out an advanced analysis to detect from what date this content has circulated on social networks, and found that a post was made on Twitter on August 29, 2020, when Iván Lima was not yet Minister of Justice.
"Masista lawyer Iván Lima: "If a girl is 12 years old and concedes to a relationship, there is no crime." #MAS passed a law protecting pedophiles like El Jefazo
Bolivia must punish the accomplices of pedophilia".
The first Facebook record is a post in the group "Universitários de Charcas" made on November 10, 2020 at 6:30 pm. On November 9, 2020, Lima took office as Minister of Justice and Institutional Transparency. Therefore, the sentence was made when he had mere hours as head of the Ministry of Justice.
On the occasion, they attached a photo of the minister published by Red Uno. The text accompanying the image was:
"NEW JUSTICE MINISTER SAYS PEDOPHILIA IS NOT A CRIME! In an interview given in August, the then MAS lawyer and former TCP member "Iván Lima" (…)" (sic).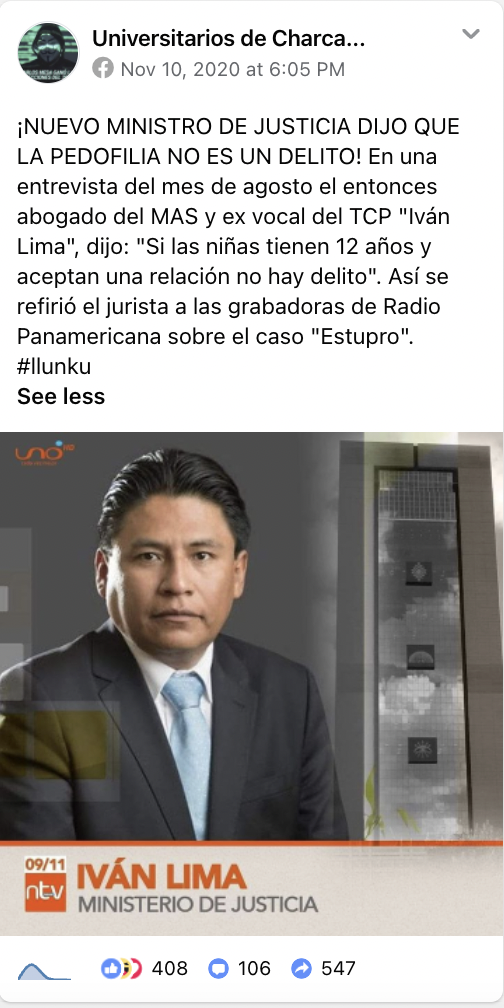 Five hours later, at 11:57 pm, the alleged statement was shared in a Facebook group called "21F Bolivia Dijo No". It was an image with the logo of an alleged media outlet called ABC Tarija, which, after a thorough search, was confirmed not to exist.
The post obtained 1,000 reactions, 170 comments and 2,200 shares in less than 24 hours.
Due to how viral the content became, on November 11, 2020, through the website of the Ministry for which Lima is responsible, a note was issued clarifying that said content was false.
On that occasion, Bolivia Verifica contacted Iván Lima to clarify what was circulating and to understand the origin of the false statement.
Where did the statement come from? The statement came to light as false after an interview on the program "Diálogo en Panamericana", on Radio Panamericana. The program was broadcast on August 29, 2020 at noon. On the 58th minute of the recording, the minister says:
"When a woman under 14 has sexual relations, that is rape and it is a crime of public order. There is no debate about that". He explains and adds that: "There is no way to determine whether the act was voluntary, that is what Bolivian law says."
Therefore, Lima did not make the statement attributed to him about 12-year-old girls, quite the opposite. The minister stated that if someone has sexual relations with a minor under the age of 14, in no way can it be interpreted that it was a voluntary act. On the contrary, the act must be qualified as a violation against the minor.
Although the clarification of the content was made in 2020, the statement reappeared on April 12, 2022. Two years later, the material returned to circulation with a design that is similar to that used by the Unitel network, in terms of colors and format: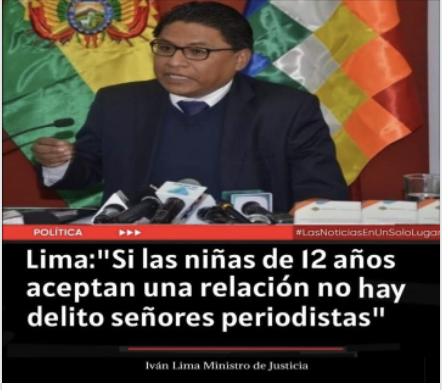 Christopher Andre, web editor at Unitel, claimed that it was false content and that the network did not publish it.
However, that is not all. On April 15, 2022, former Senator Carmen Eva Gonzáles Lafuente, through her official Twitter account, published the initial image without the ABC Tarija logo, stating: "If it were your daughter, would you say the same? And that was said by the Minister of Justice himself!!!!! A pervert"" (Sic).
Journalists such as Andrés Gómez and Ximena Galarza were among the users who "liked" the post, as well as the deputy minister of Foreign Affairs, Freddy Mamani Machaca.
Lastly, we detected that this fake content is also circulating on WhatsApp through a screenshot of a Facebook post: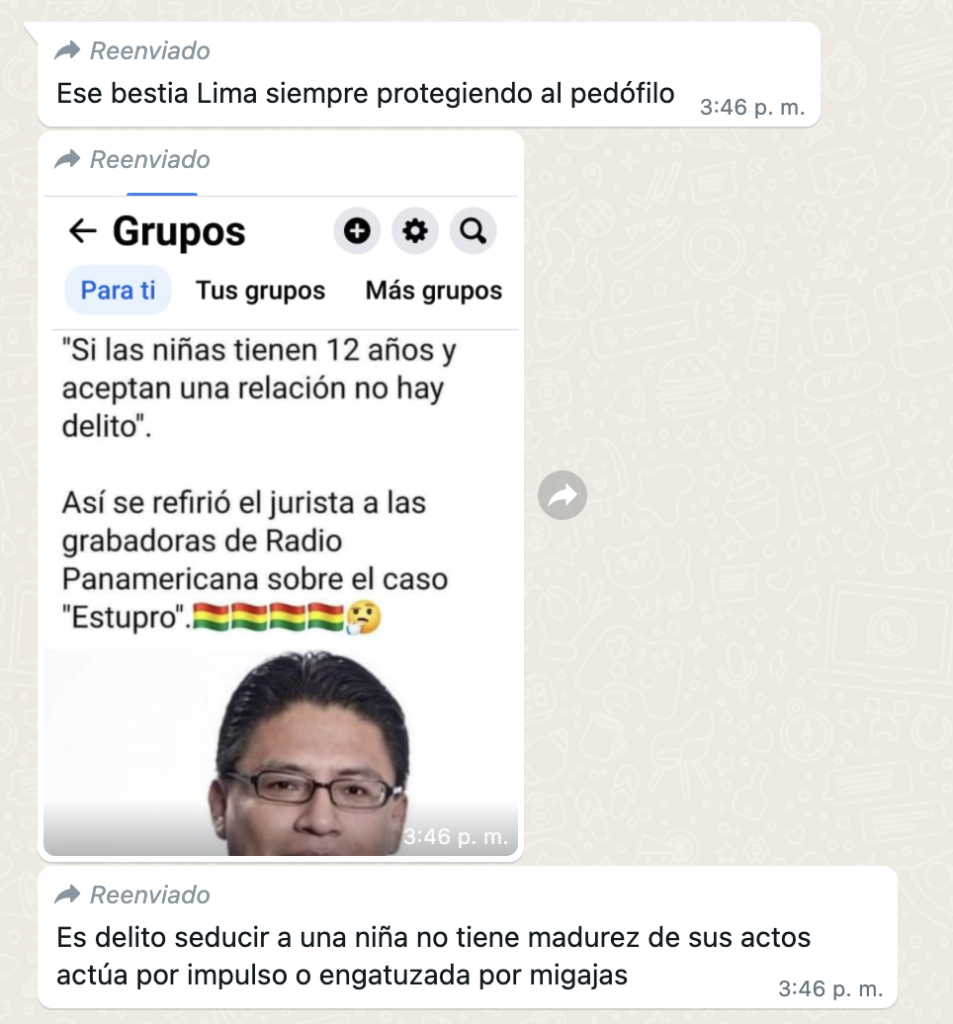 Despite efforts to clarify that this content is fake, it continues to spread massively across different social networks and is gaining more and more reach.
* The Digital Democracy Room is a project of FGV DAPP in Brazil in partnership with Animal Político, Bolivia Verifica, Chequeado, Confidencial, Espacio Público, Linterna Verde and Ojo Público. It's goal is to monitor and analyze the digital conversations regarding the electoral context.
The analysis is available the website of Bolivia Verifica here.