Lynching and sexual violence against children spark outrage in Bolivia
By Bolívia Verifica | Bolivia
Por Isabel Mercado
Updated 28 de June, 2022 at 10:16 am
Bolivia has alarming rates of sexual violence against minors, and is one of the countries where lynching is frequently used as a form of community justice. An episode brought these two issues together this week and prompted reactions on social media
Wearing a t-shirt and flip-flops and in a rush. That is how Miguel Ángel Salazar (24 years old) was transferred from Santa Cruz to La Paz, after being saved from being lynched by his neighbors in Yapacaní, Santa Cruz. The young man was arrested after being accused, along with his three brothers, of sexually abusing a 10-year-old boy. The boy, who allegedly had been abused for two years, has contracted HIV-AIDS and is currently in a coma.
The young man was transferred to the maximum security prison of Chonchocoro, in La Paz, due to the risks to his life after the residents of the city where the abuse took place tried to take justice into their own hands. The child's mother asked the population of Yapacani to help take care of her son and begged for justice to be done regarding her case. She also said that the boy is traumatized by the violence he was subjected to.
The attackers are four brothers who are the boy's neighbors. Two of them are minors aged 15 and 17, and the other two are 23 and 28. The 28-year-old man died last year of AIDS.
The four brothers have criminal records related to gun and drug use but have not been prosecuted for sexual abuse despite the records. It is believed that there was at least one more victim of these abuses in Yapacani.
Lynching and sexual abuse, two recurring issues
Some of the consequences of the Bolivian legal crisis are the population's lack of credibility and feeling of abandonment in the context of recurring crimes and offenses. Bolivia is one of the countries where lynching happens the most frequently. This year alone, four cases of attempted executions have been publicly recorded, all related to angry populations taking justice into their own hands to warn criminals, in the absence of the rule of law in their context. The absence of police forces in many cities and other areas of the country encourages these acts.
The fundamental right to life is guaranteed by the Political Constitution of the State and by international human rights instruments, and its deprivation by one's own hands constitutes a crime sanctioned by the current penal legislation. In 2013, the Human Rights Committee recommended that Bolivia "take urgent steps to ensure that any lynching is investigated without delay, that perpetrators are properly prosecuted and punished, and that victims receive adequate remedies.
The State must strengthen the participation of the Police and the Federal Prosecution Office in punishing and preventing crime, and intensify prevention and awareness campaigns, including in schools and in the media".
Causes of lynching between January 2005 and November 2011, by type of crime (percentages)
Source: Prepared based on journalistic sources (La Prensa, La Razón, El Alteño, Extra, El Diario, Los Tiempos y Oponión, El Deber, Estrella del Oriente, Correo del Sur, El Potosi, and La Patria)
However, the feeling of vulnerability and lack of justice is growing, especially due to the high rates of violence against women and children in the country. In the first quarter of 2022, there were 611 cases of abuse of children, girls, boys and adolescents across Bolivia. This number reflects an average of seven sexual assaults against minors every day, one of the highest numbers in recent years in the country.
Law 548 of the Code of Girls, Boys and Adolescents provides that "girls, boys and adolescents have the right to live, develop and be educated in an environment of affection and security in their family of origin or, exceptionally, when this is not possible or contrary to their interest, in a surrogate family that ensures a living experience within a family and community.
Article 318 (Corruption of Girls, Boys or Adolescents) states that "whoever, through lewd acts or by any other means, corrupts or contributes to the corruption of a minor under eighteen years of age shall be punished with deprivation of liberty from three to eight years."
However, violence against children has grown disproportionately in the pandemic times.. The second most reported crime in 2021 was sexual abuse, with 2,638 cases, followed by rape, with 2,249 cases, rape of children or adolescents, with 2,078 cases, and rape, with 1,548 cases, according to data released in a note from the State Attorney General's Office.
This has been a warning sign for society, which is calling for tougher measures against aggressors and preventive campaigns by the State.
Death penalty
"Why didn't they let him be lynched?", "Death penalty now", "jail and death", and other similar expressions were posted on social media in reaction to this case.
The suffering of the Yapacani boy and his mother, who only learned about her son's situation when he became ill with AIDS, revealed a painful and frequent reality.
Regarding the terms "Yapacaní", "rape" and "child", Facebook recorded a peak of content production and virtual interaction that exceeded one million.
This peak coincided with the increase in posts and interactions related to the terms "death penalty", "castration" and "lynching".
Authorities who mentioned the death penalty or castration
In addition to the reactions of the population on social media, there were numerous responses from politicians and authorities about this case. President Luis Arce Catacora, through his Twitter account, called for "the full weight of the law" for those responsible for the rape of a child in Yapacaní, Santa Cruz, which outraged the population.
In an initial message, the president expressed his repudiation of the event and said that "structural solutions" are urgently needed. "Pain and indignation, there is no way to describe the feeling that afflicts us regarding what happened to the little boy, a victim of rape in Yapacaní, but it is not enough to repudiate these types of events, it is necessary to promote structural solutions so that they do not happen again."
He followed with another message demanding "the full weight of the law" for those responsible for the case and mentioned the help received by the victim and her family.
Post: Luis Alberto Arce Catacora (Lucho Arce)
Pain and indignation, there is no way to describe the feeling that afflicts us regarding what happened to the little boy, a victim of rape in Yapacaní, but it is not enough to repudiate these types of events, it is necessary to promote structural solutions so that they do not happen again.
MAS and opposition lawmakers also spoke out.
DEATH PENALTY Congressman Héctor Arce (MAS) https://www.facebook.com/watch/?v=1144969242727521
DEATH PENALTY Senator Erick Morón (Creemos) https://www.facebook.com/watch/?v=397809115443402
CHEMICAL CASTRATION OR DEATH PENALTY: Congressman Daniel Rojas (MAS) https://www.atb.com.bo/pol%C3%ADtica/legisladores-plantean-debatir-sobre-castraci%C3%B3n-qu%C3%ADmica-para-violadores
Bettsy Ortíz (city councilor of Trinidad): https://www.facebook.com/watch/live/?ref=watch_permalink&v=299329205744366
The Cochabamba Mayor Manfred Reyes Villa also mentioned chemical castration as a solution.
https://www.facebook.com/watch/?v=712064146674068
Media outlets that debated stronger penalties
The media followed the case closely and showed signs of public outrage in their headlines and content.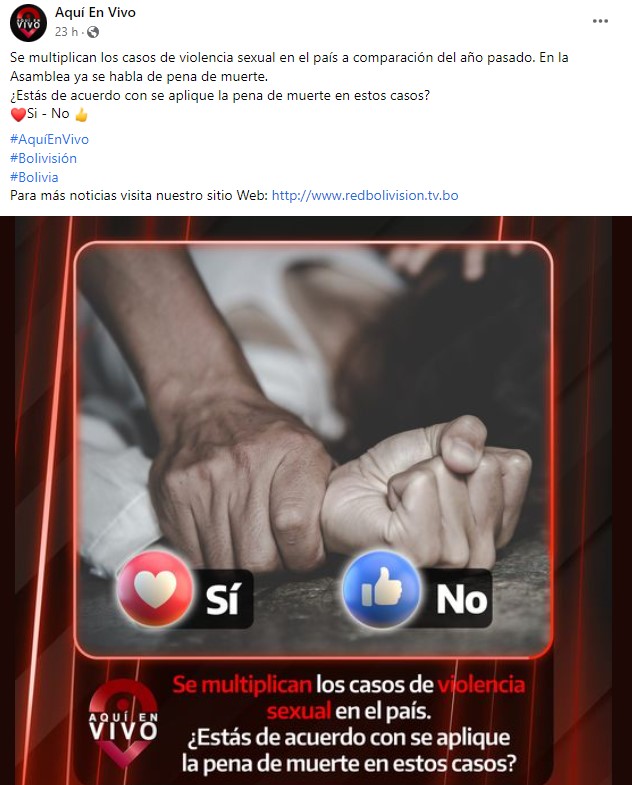 https://www.facebook.com/105698078300185/posts/352207193649271.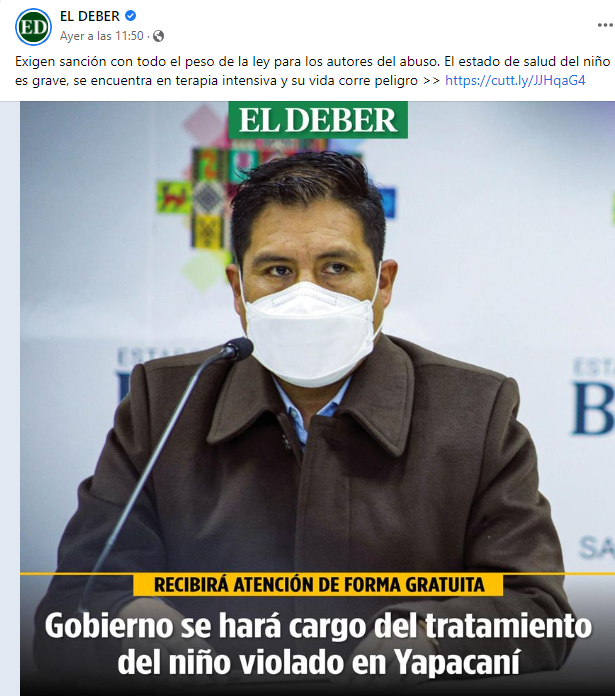 https://www.facebook.com/200586404047/posts/10160716288699048.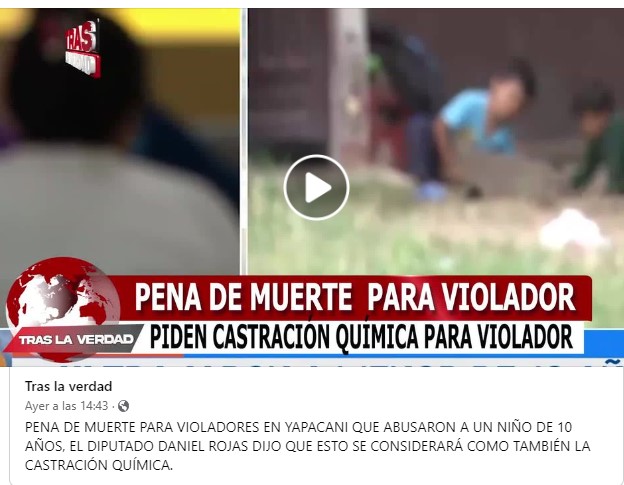 https://www.facebook.com/156461556546595/videos/1069786920634904.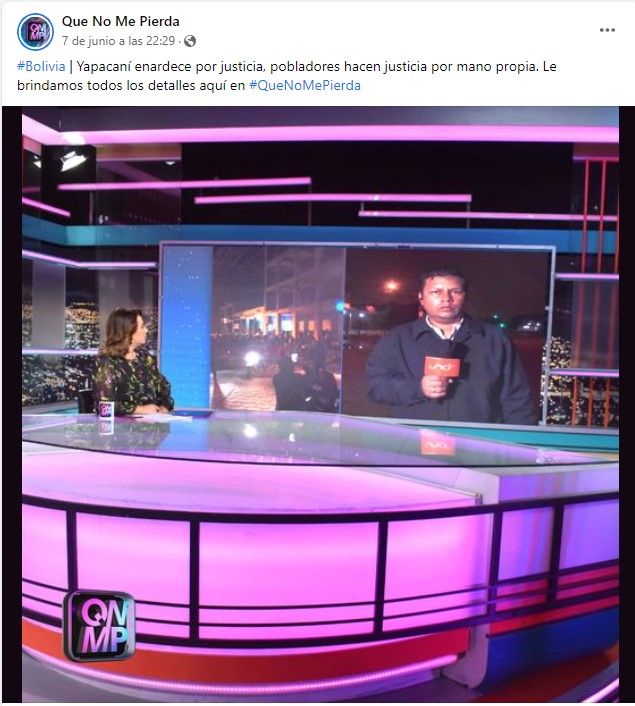 https://www.facebook.com/657619507616245/posts/5469995613045253.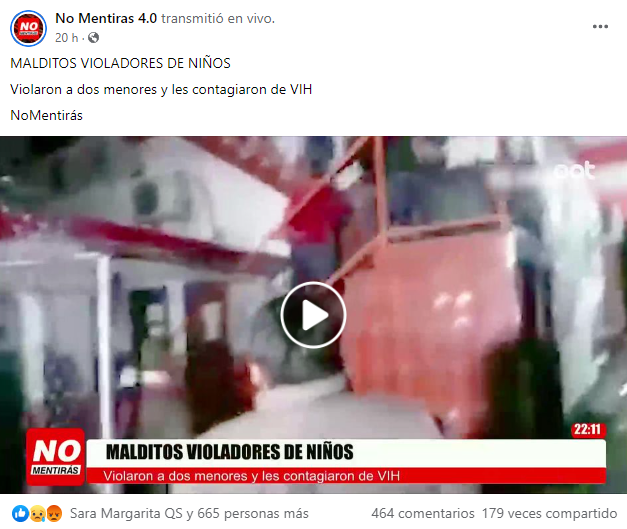 https://fb.watch/dycIaxr2w6/.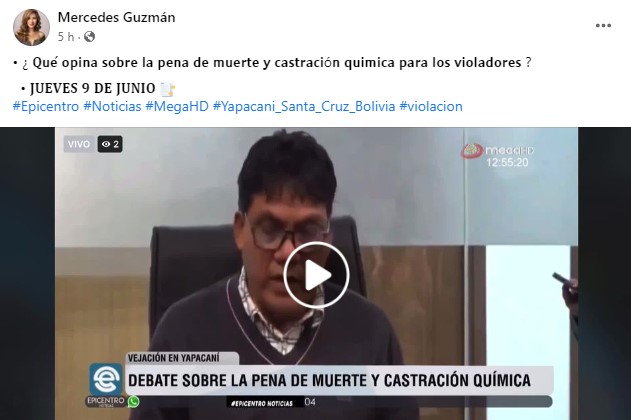 This is a publication made by a renowned journalist who follows cases of violence.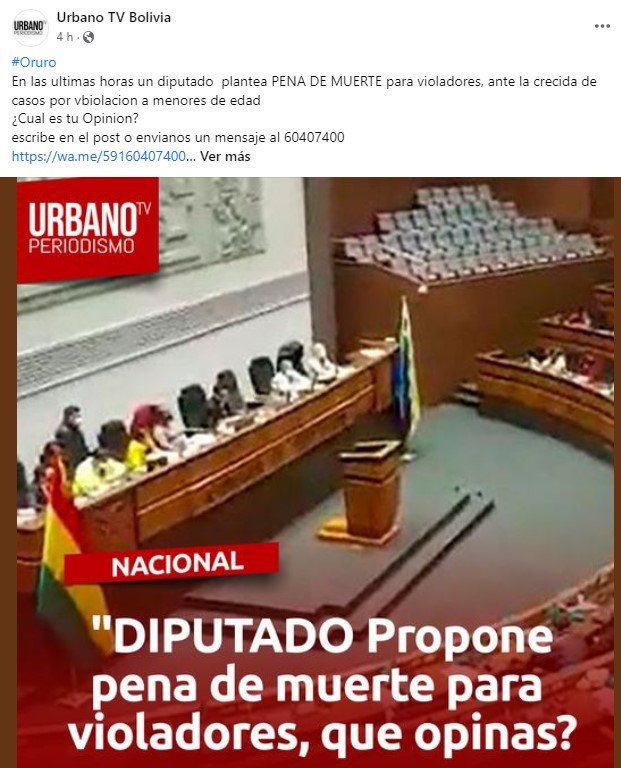 https://www.facebook.com/110148791147638/posts/385196806976167.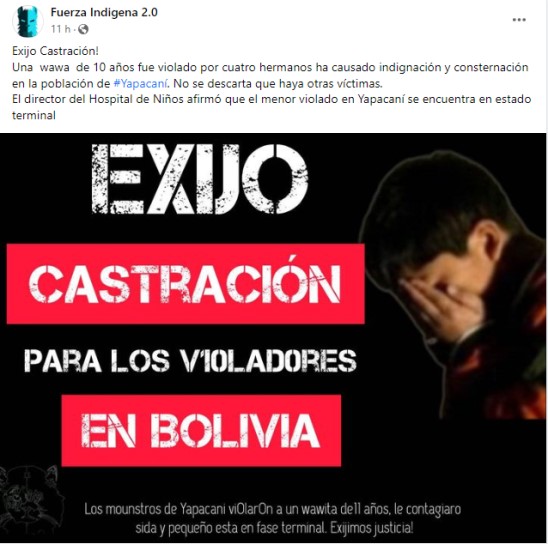 Video of the lynching
As an example of the importance that the media, social networks and citizens have given to this case, we show the viral video filmed at the moment when one of the defenders in the abuse case was removed from the prison where he was being held in Yapacaní to be stripped and lynched by the residents of the city.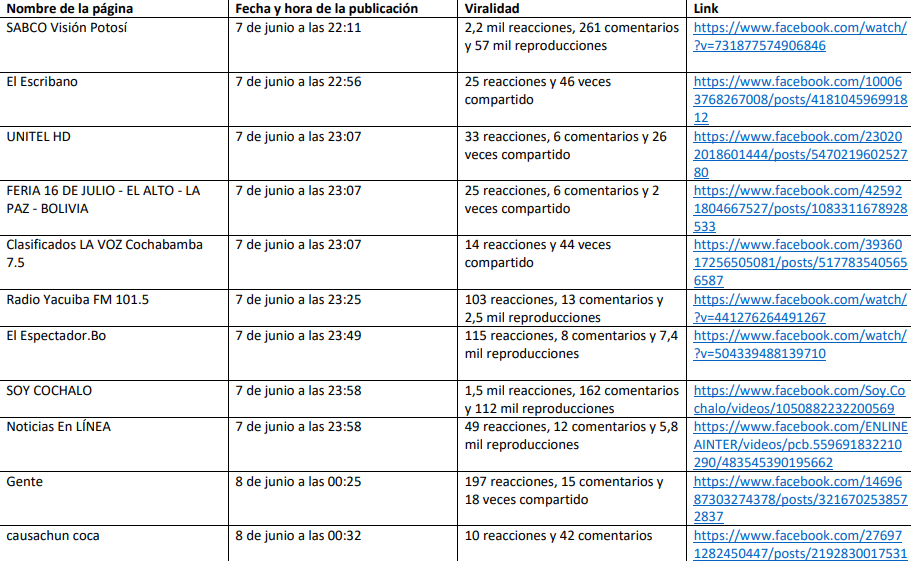 * The Digital Democracy Room is a project of FGV DAPP in Brazil in partnership with Animal Político, Bolivia Verifica, Chequeado, Confidencial, Espacio Público, Linterna Verde and Ojo Público. It's goal is to monitor and analyze the digital conversations regarding the electoral context.
The analysis is available the website of Bolivia Verifica here.