Is the new Chilean Constitution similar to the Bolivian CPE? The trend on social networks
By Bolívia Verifica | Bolívia
Por Isabel Mercado
Updated 5 de August, 2022 at 11:28 am
The former vice president of Bolivia, Álvaro García Linera, whom Chilean President Gabriel Boric recognizes as an inspiration, is noticeable for promoting the inclusion of the concept of "plurinationality" in the new Chilean constitutional text
On September 4, Chile will hold a referendum to approve or reject the new Constitution. Supporters of approving or rejecting the text began to speak out publicly to defend their respective positions.
Chilean President Gabriel Boric is a decisive promoter of the cause, and he recently assured that if the proposal for a new Magna Carta is rejected, a new constitutional process must be called.
The main right-wing parties already strongly reject the new text, which they describe as "partisan" and "indigenist", while the left decided to encourage citizens to vote for the approval of the new text. The proposal began to be written as a political way to quell a massive wave of equality protests that began in 2019 and left thirty dead and thousands injured.
In the midst of this polarization, former Bolivian vice president Álvaro García Linera stands out in Chile for his influence in including plurinationality in the constituent process of the neighboring country. His presence is reflected in the media, where he is called President Gabriel Boric's "guru". Among other outlets, La Tercera also spoke about the former vice president, calling him "Gabriel Boric's Bolivian political-intellectual reference."
The trends on social networks
The debate in Chile is centered on the future of the constituent convention. Preferences are sharply divided, and each side defends its own agenda, either discrediting the new text or supporting it unreservedly. The comparison between the new text and the Bolivian CPE is a trend on social networks.
Twitter
Former Bolivian presidents at the center of controversy
Both former vice president Álvaro García Linera and former president Evo Morales are noted for their influence in the presidential environment and for allegedly promoting a text that mimics the Bolivian Constitution.
Tweets linking Evo Morales to the Chilean constituent
Tweets linking Boric to García Linera
Tweets linking the Chilean constituent to the sea coast
Trendsmap
The activity analysis on Twitter indicates that the most striking trend is related to the hashtag #AprueboXAmor, in favor of the Constitution project. 80,000 tweets were published with this hashtag in the last week in the Antofagasta region.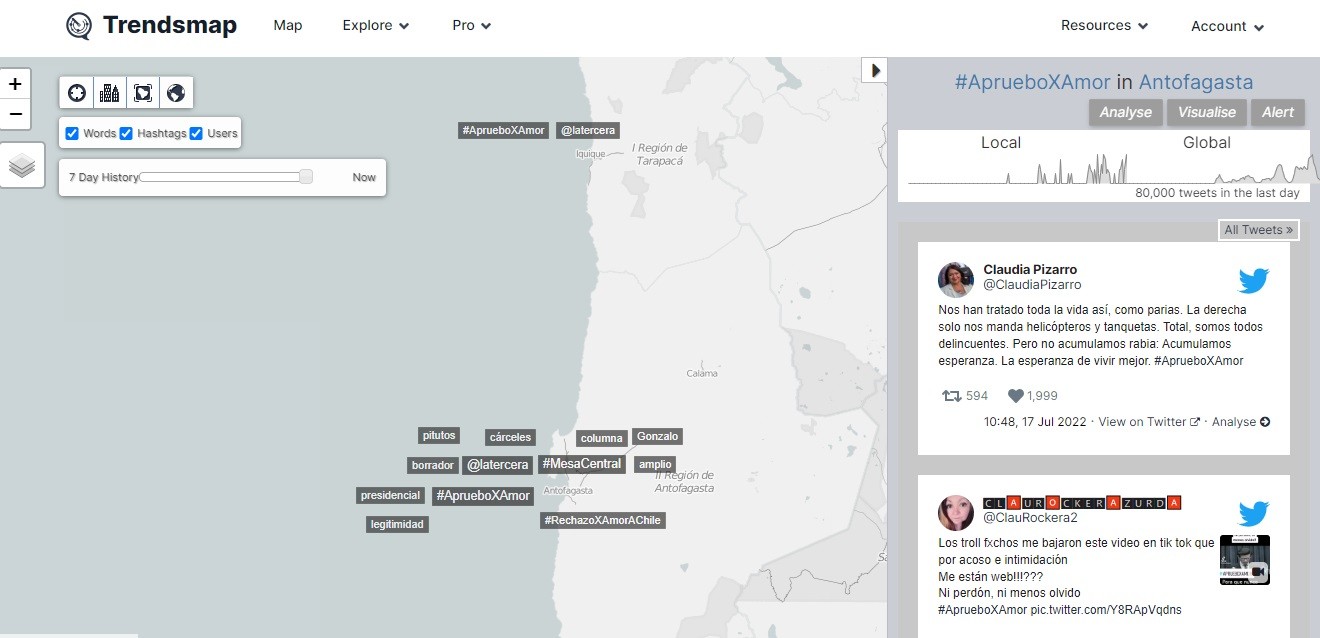 The hashtag RechazoXAmorAChile, rejecting the new Constitution, had 45,000 tweets in Antofagasta.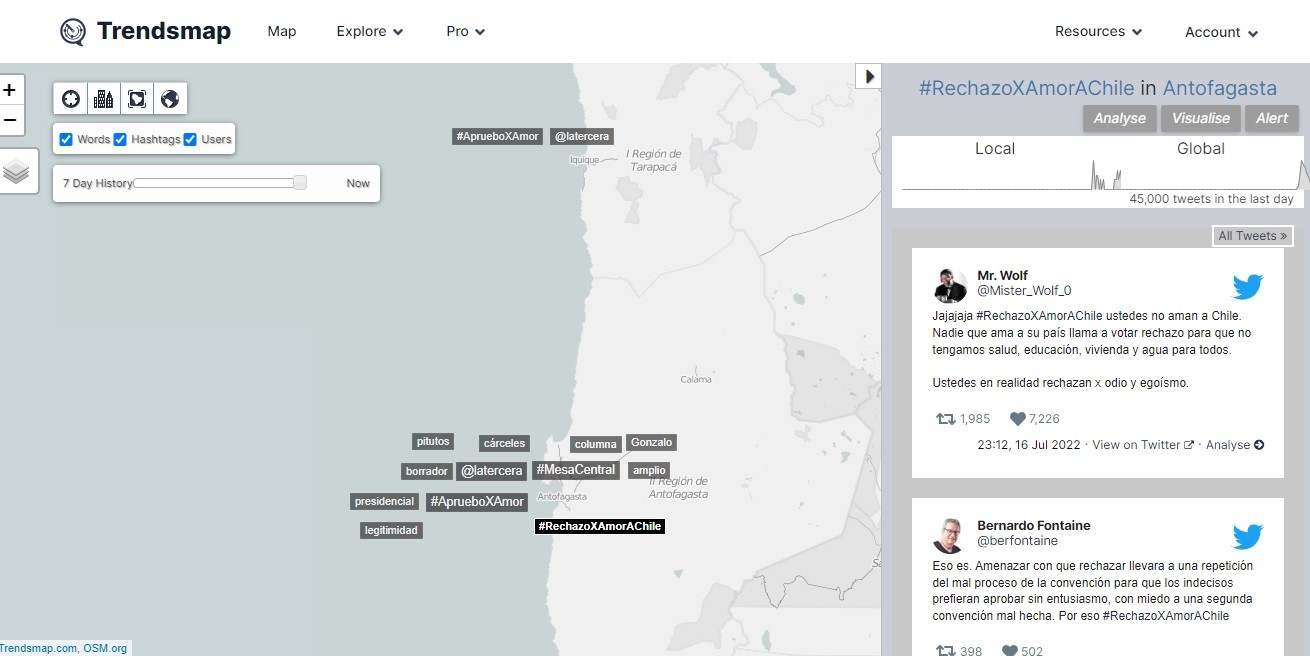 The hashtag AprueboXAmor, in favor of the Constitution of Chile, had more than 80,000 tweets in the Iquique region.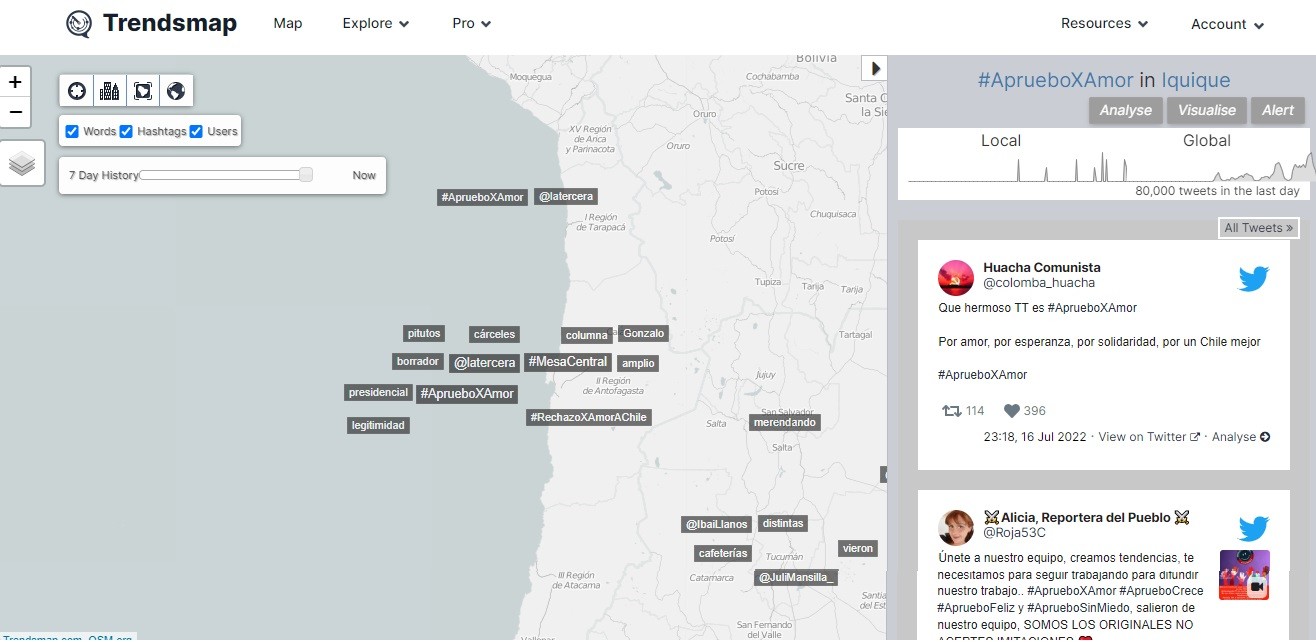 https://www.facebook.com/100081086097347/videos/412463564263193
https://www.facebook.com/MemeAprueb0/posts/536729814908023
https://www.facebook.com/noasambleaconstituyente/posts/5690352954321747
https://www.facebook.com/corrupcionesdelospoliticos.decopiapo/posts/3120843528159182
* The Digital Democracy Room is a project of FGV DAPP in Brazil in partnership with Animal Político, Bolivia Verifica, Chequeado, Confidencial, Espacio Público, Linterna Verde and Ojo Público. It's goal is to monitor and analyze the digital conversations regarding the electoral context.
The analysis is available the website of Bolivia Verifica here.