The topics about the Northeast that dominated the networks in the final stretch of the elections
por Agência Tatu
Por Lucas Thaynan and Lucas Maia
Updated 31 de October, 2022 at 3:03 pm
The topics about the Northeast that dominated the networks in the final stretch of the elections
The topics mobilizing debate about the Northeast region on Twitter included the Band debate, a budget cut in a milk distribution program, and an alleged case of radio fraud.
A few days away from the second round of the 2022 elections, topics about the Northeast region continued to have a large impact on the political debate on social media. More than 872,000 tweets mentioning the region have been posted since October 11, with 61% of those posts also mentioning Jair Bolsonaro (PL) or Lula (PT).
This information is based on a survey carried out by Agência Tatu, through the Trendsmap platform, which indicates the major topics in the debate about the Northeast region on Twitter in the last two weeks.
Between October 11 and 25, almost 872,900 tweets were published mentioning the term "Northeast"; the graph below shows peaks in mentions in three moments, with tens of thousands of posts in just a few hours.
Mentions to "Northeast" on Twitter in the last two weeks
Graph: Agência Tatu Source: Trendsmap/FGV ECMI
Band Debate
On October 16 and 17, the period when the Band presidential debate and its repercussion happened, more than 157,000 posts were made mentioning the Northeast. During this period, the two most retweeted messages were critical of the candidate Jair Bolsonaro.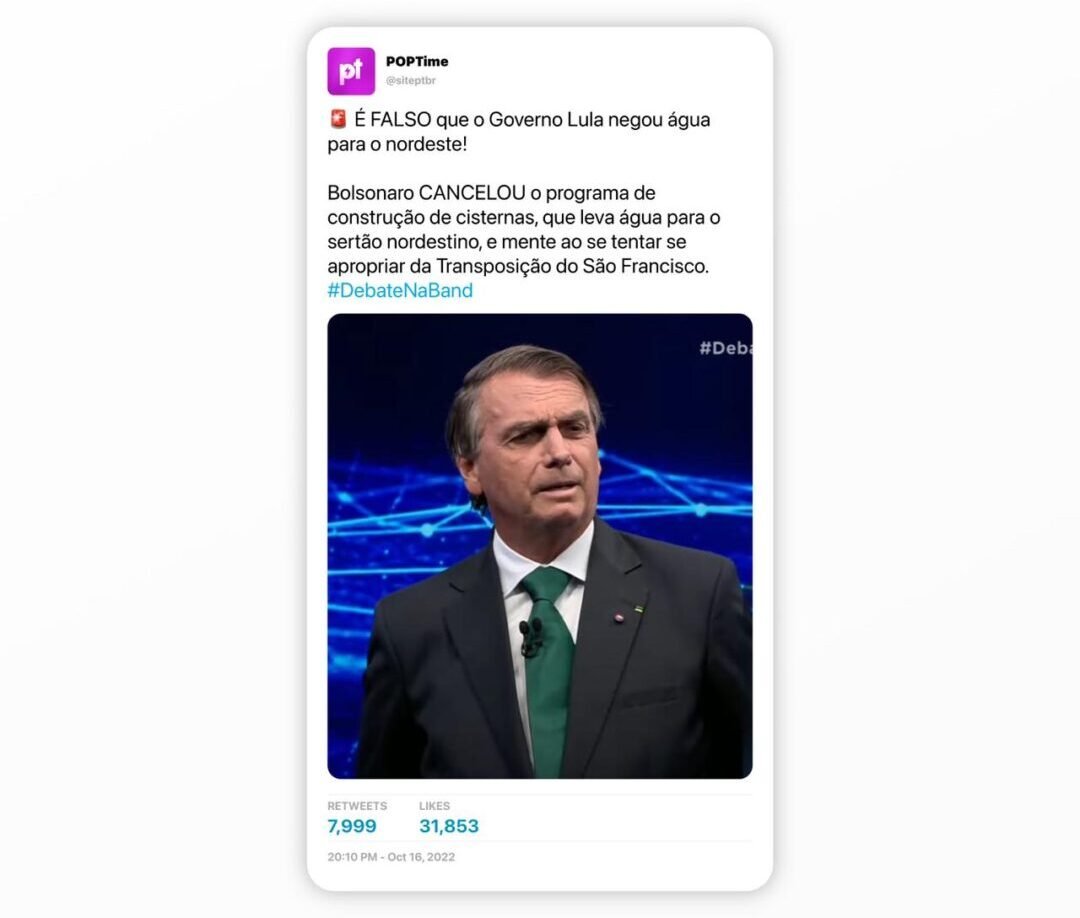 Budget cut for milk program
On October 22, 101,000 tweets were made mentioning the Northeast. The peak of mentions to the region can be explained by a UOL report showing budget cuts in a milk distribution program for families in extreme poverty in the Northeast region as well as Minas Gerais. The most shared tweets on that day mentioned this content.
Alleged case of fraud in radio broadcasts
On October 24, Jair Bolsonaro's campaign released a request made to the Electoral Court to suspend Lula's radio broadcasts. According to Bolsonaro's campaign, radio stations in the Northeast region allegedly stopped broadcasting material from the current president's campaign. In addition, other criticisms of the PT involving the Northeast also stood out among the most shared tweets on that day. There were 255 thousand posts about the Northeast on October 24 and 25.
Major hashtags
The hashtags appearing the most in the publications analyzed included: #debatenaband, #virabrasil and #lula13. The words associated the most with those hashtags on the tweets were "bolsonaro", "lula" and "government".
The Digital Democracy Room at FGV ECMI is an initiative to monitor and analyze the public debate on the internet. Currently, it has partnerships to help monitor politics on the networks in Brazil and in Latin America. This content was produced by the partner Agência Tatu.